11 Apps Kesukaan pada Galaxy Tab saya
Thursday, February 03, 2011
Posted on 3:31:29 PM |
15 Comments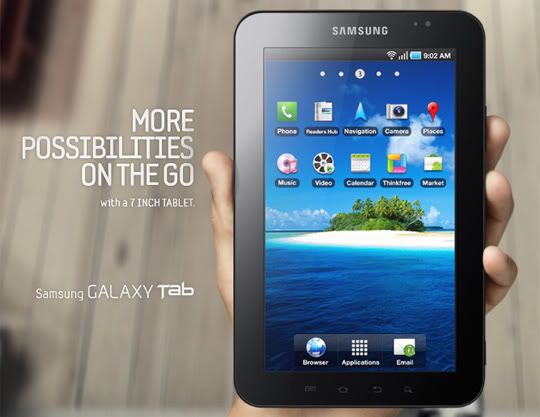 Sudah dua bulan lebih saya addicted to GTab ni. Mula-mula dulu, saya pilih GTab instead of iPad sebab saiz dan beratnya yang sangat convenience. Senang nak pegang sambil baring-baring tengok youtube baca buku sebelum tidur. Lepas saya guna, memang rasa sangat suka. Especially bila banyak apps yang free. Dan applikasi dalam GTab saya semuanya free pun.
Ok. Ini senarai apps yang saya ada, tak termasuk default apps dari Samsung. Semua senarai ni cuma dari Android Market sahaja.
Banyak lagi saya nak letak, boleh tak.... Saya cuma senaraikan jer eh....
RSS Reader: My Taptu, Google Reader, IMDb Movies & TV

Social Network & Chat: Facebook, Plume (Touiteur), Foursquare, PingChat!, WhatsApp Messenger, Yahoo! Messenger

Documents: Open Office Document Reader, SilverEdit v2 - HTML CSS TXT, Adobe Reader

Pengetahuan Am: Wapedia, Useless Facts, Dictionary.com

Internet: Dolphin Browser, Opera, WordPress, Flash Player

Utilities: Folder Organizer, Barcode Scanner, Wifi Analyzer, Speed Test, CamScanner, Google Translate, RealCalc, Google Finance, SMS Popup, ConvertPad, Wyse PocketCloud RDP/VNC, TuneIn Radio, Antivirus Free AVG

Productivity: Springpad, Homework

Fun: Art of Glow, Plasma Lamp, Paint Joy - Movie your drawing, Adobe Photoshop Express

Games: Angry Birds, Angry Birds Seasons, Break the Bricks, Air Control Lite, Restaurant Story, Farm Story, Klondike Solitaire

And the list still goes on. Termasuk games yang entah apa-apa dan apps untuk Melly dan Elman juga. Kan saya dah kata Android sangat best.
And now, let's share yours... saya mahu tahu juga... untuk menambah senarai apps yang ada.... :)
Corat-Coret, Review, Not So I.T. |
15 Comments