dari kisah benar
Sunday, May 30, 2010
Posted on 12:29:19 AM |
8 Comments
the movie
the book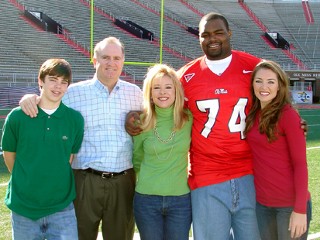 the real Michael Oher & family.
the family in the movie.
saya baru tengok movie kisah benar mengenai Michael Oher. saya bukan paham atau suka pun sukan ragbi. tapi cerita ni sangat memberi inspirasi. sedih pun ya. bagi semangat pun ya.
sampai saya search cerita-cerita dia di internet, sebab nak tengok muka keluarga angkat yang sebenar. baru tahu memang ada bukunya. dan saya baca sedikit sebanyak ceritanya di sini: the ballad of big mike.
Corat-Coret, Fiction, Motivation |
8 Comments