saya dapat award lagi
Tuesday, March 10, 2009
Posted on 8:29:22 PM |
0 Comments
wah.. saya dapat award lagi..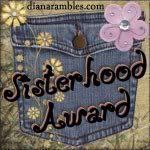 kali ni dari jaja & lian..
thank you so much to jaja & lian for the award dan kata-kata yang sangat memberangsangkan di dalam blog kamu berdua tu.. saya sangat tersentuh dan happy sekali..
saya kenal jaja & lian baru lagi. yang saya tahu mereka sangat kreatif dan rajin. dan saya sangat teruja bila jumpa blog-blog orang malaysia yang berkraf ni. dulu susah nak jumpa.
Here are the rules;
1. Place the award logo on your blog.
2. Nominate 10 other blogs which show "Attitude and/or Gratitude"
3. Link to the nominees on your blog post.
4. Comment on their blog that you have nominated them.
5. Share the love and link to the person who nominated you.
seterusnya saya mahu berikan award ni kepada seluruh kawan-kawan MJ saya.
kita memang betul-betu sisterhood. banyak sangat yang kita share. masa happy. masa sedih. masa poyo. masa depress. semua kita share. dan sesekali kita bergather memang amat seronok sekali. saya happy sangat menjadi sebahagian dari MJ. sudilah kiranya kakak-kakak dan kembar-kembar (ni yang sebaya kira kembar lah) dan adik-adik MJ sekelian menerima award ni.. ewah!
Corat-Coret, Tag, MJ |
0 Comments