Sweet Dress
Tuesday, April 29, 2008
Posted on 9:32:38 PM |
5 Comments
Hari ni dapat hantar 3 helai baju, best rasenye.. 1 untuk Arya, 2 untuk Adriana.. 1 jek laa aku letak sini, yang belum pernah letak.. sebab hat 2 lagi tu dah selalu sangat aku upload.. cuma nama jek lain.. Untuk baju atas ni, aku suka sangat corak & texture kainnya.. sweet sangat.. sib baik ade lebih untuk Dahlia.. ehehe.. thanks so much Elin for the kain lebih & order, & Nunu for the order..
So, aku nak clearkan segala order dulu, sebelum aku terima order baru okeh.. aku takut nak amik banyak sangat order sebab takut tak terbuat.. mane laa tau ade keadaan atau situasi yang tak mengizinkan, kan... so, aku still lagi tutup order.. sorry sangat2..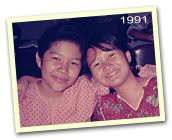 Hari ni juga aku dapat berita sedih, anak kawan sekolah aku dulu, Lina aka Mitsu meninggal dunia hari ni sebab ada komplikasi jantung. Tuhan lebih menyayangi Adam. Usianya baru 12 hari tapi semua tahu yang dia sudah punya tempat di syurga sana.. sambil menunggu kedua ibu bapanya, insya Allah.. Semoga Lina terus tabah..
Al-Fatihah..
Made by Maya, Dahlia Dress, Sewing Corner |
5 Comments